Couple of days rest and off again , do I need a holiday ?
Thursday May 23.
Third trip to Georgia , my OCD was kicking in and I needed 5 grounds to visit to satisfy my "completeism" at top tier level in UEFA and at the beginning of the 2019 season these were 5 to visit, namely Dila Gori (back at their own ground, I saw them at home last season at Mikheil Meskhi 2) , Dinamo Batumi (at a newly built Dinamo Base, Angisa , I saw them at home last season at the Rugby Ground) , FC Rustavi at the Poldavi Stadium , Sioni Bolnisi at Tamaz Stepania Stadium and WIT Georgia at Mtskheta Park.
These 5 became 4 when it was announced WIT Georgia would be staging home games at Mikheil Meskhi 2 and then FC Rustavi announced a switch to a brand new Academy venue (see photo , crap ) . So it was 4.
Booked Wizz in advance , 2 months ago , had a punt at fixtures being to my liking , more of that later. Anyway outward Thursday 23rd May and returning May 30th came up at a staggering £80.48 using Wizz Discount card (Group Card) , so fellow passengers paid the same. This was "Travel Light", always makes me smirk when using that ticketing option . Departure was at 16-10 and left promptly if not possibly a tad early !
Tbilisi was a destination  option but it was at least treble +  the price and with at least one change for the cheaper options.
So with our Wizz sized bags crammed with underpants / tee shirts/ tooth paste , brush  etc we boarded the plane at Luton ( W9 6424 )  heading to 'Bob the Builder' Airport in Kutaisi  ( always another chuckle ).
Car was also booked with Wizz and their partner 'Rentalcars.com'  the 'Meet and Greet" option was used because of the timing of arrival , this car hire I thought was a bit expensive although inc Sat Nav / all insurance etc, but it was split 3 ways , over £ 90 each even with Wizz discount ! Arrived spot on and sailed through Customs / Immigration and we were  with a chap waving my name in everyone's face before 01-00 , he walked us to car , only about 100 yards away telling us the  procedure on the way back and then giving us his number to phone when ready to hand back the car saying he would be at the airport . Then we were away and in our hotel at 01-30. Obviously needed to book a decent hotel with a 24hour Reception Desk ,  Hualeng Hotel (3*) fitted the bill , so also pre booked a Deluxe Triple , 3 x single en suite, Wi Fi, Parking, breakfast  etc for the princely sum of £31 , yes £10 each.
So refreshed after a good kip by my standards , about 5 hours , it was continental breakfast and time to head off to the first game of the day. With it being a holiday weekend in Georgia , Independance Day on Sunday 26thth  May I was unsure what the traffic would be like , NO caravans here ! This holiday recognizes Georgia's indpendance from Russia in 1918 , they joined the USSR in 1922 and the celebration was put on hold until the Soviet collapse in 1991 when once again they gained independence , this time on April 9th. Yes you've guessed it , that's also a holiday , this time  'National Unity' day. Hope we get a "Brexit Day" annual holiday when we eventually get our freedom from that EU thingy.
Anyway with a 180 mile trip in front of us we departed hotel at 09-00 , this was to get to Tamaz Stepania Stadium in Bolnisi for a 17-00 kick off.  This would allow a call in at Dila Gori Stadium  en route to check parking options for evening game and check in at the Paradise Hotel in Tbilisi , new tick for me but good first impressions , just a short detour off route , then allowing for hotel stop ( timings done from same point)  a serious cutting corners / speeding attempt  between Dila Gori / Hotel and Sioni Bolnisi stadiums  ! This is a 92 mile journey and Google has it as a 2 hours 15′ journey and my favourite 'Rome2Rio' as 1 hour 58′.  This was  for after the game and the return journey , finishing at 18-50 and kick off at Dila Gori at 21-00. A tight trip which will need a bit of speeding , unfortunately some of it in and around Tbilisi. It was timed at exactly 1 hour 55′ journey with nothing excessive speed wise , Tbilisi was not a problem at that time of day ?
Friday, May 24, 2019.
Georgia Top Tier ( Erovnuli League). Round 15.
FC Sioni Bolnisi  v F C Rustavi.
17-00.
@ Tamaz Stepania Stadium , Bolnisi.
3-3.
Att – 400.
Parking was made at ground to ensure the fastest possible getaway , I do not like watching games when you need a quick drive to a second game. Unlike most , possibly many of you reading this I have to watch 90 minutes of a game or at least be in the ground for the duration of game.
There are so many "Plastic" hoppers about nowadays that I  find it impossible to have a discussion with about the hobby to many , it's so pointless as they have NO standards. Each to their own I say despite me not being able to understand that somee get their late , leave early , talk all game showing no interest in football , must have a programme , watch 80 minute league games for a tick, must have a programme , will tick for anything boys / girls / yoofs / reserves / academy / etc etc, it's baffling to me , I can only assume their lives are so boring they need to get out of the house at every opportunity ? And they are so touchy about the subject.
Anyway the game kicked off a minute down , and immediately the heavens opened , absolutely torrential , still away we went and Rustavi took the lead on 5′ with a good left foot drive from Zaza Tsitskishvilli. It got worse for Sioni with an own goal sliced in by defender Tamaz Makatsaria. The deluge stopped on 15′ but it left a lot of lying water and there were pools everywhere , there was no further goals in the first half.
Rustavi went 3-0 up on 62′ with a neat chip and finish by Luka Silagadze , this led to a free for all and not with handbags. Punches and kicks were thrown , when it all died down the officials gathered and discussed and it led to 1 red for Sioni and 2 for Rustavi. Not seen a proper punch up for a long time !
Anyway this obviously gave Sioni a half chance with 30 minutes left and one man more , it looked beyond them but on 84′ Dato Kirkitadze with a fluke gave them a bit of hope , they still looked out of it but an own goal by Zurab Japlashvilli on 88′ gave further hope and then on 90′ +3′  Lovaz Kmaladz equalized with a good header.
The players / crowd went wild and it was time to edge towards the exit and our car , our driver had exited and sped to car and was revving up waiting when I ambled up. So with 5 minutes extra time we now had 2 hours 5′ for our 1 hour 55′ journey. Where's Hamilton when you need him.
Anyway Bottas did well , missing some oncoming traffic by a whisker at times and we managed to arrive at the ground with 10 minutes to spare, parking was now more difficult but with those magic words of "Press" we were shown to a decent spot, no rush after the game so getting in was now  the only concern. An envelope as promised was waiting on reception but with only 2 comps inside , the steward ushered us all in .  3 minutes to kick off , sent  the minion off to get a team sheet , it took me a while to settle down after the tension of the 2 hour drive , really do not like deadlines.
+
Erovnuli League. Round 15.
FC Dila Gori  v  FC Saburtalo 1999.
21-00.@ Tengiz Burjanadze Stadium , Gori.
1-1.
Att – 2,500.
Poor game with the draw a fair result but at least a decent crowd  and a good atmosphere. Saburtalo missed their chance of going clear at the top ( see table below ).
Saburtalo opened the scoring on 67 ' when a long distance shot by  'Gega' Diassamidze was helped into the net by keeper Luka Gugeshasvilli , an own goal in my book but claimed by the forward.
Dila equalized on 75′ with a decent header by Giorgi Kutsia.
Saturday , 25th.
Day off for me , I had found my 2 colleagues a couple of ganes in the Tbilisi Regional League , they had an 11-00 & a 13-00 , missing a few minutes at the second match.  Too many reserves / academy teams involved for me but mates have no principals ! They reported a 4-1 and a 11-2 . I had an early breakfast and then back to bed with a "Do not Disturb" sign on the door when they went out.
I had an amble about in the afternoon , found a local bar , scandalous prices , nearly 50p a 500 ml bottle. Went back to hotel for a meal and although a limited menu it was good cheap food. Wine by the bottle very cheap. Enquired if they were open in the evening for a drink or 6 and the reply was an " of course".
Back to the room for a lie down , then the 'crunchers' arrived at about 17-00 , just calling in and then they were out again , I did warn them about it being quiet out there because of the holiday and we agreed to meet here at 21 – 00 for an evening meal / drink / chin wag and I could make a start on an the update to the "The Hopper Laws FIFA edition 2020" while waiting their return. I  will publicize details of where to obtain it when available , only for the serious hoppers , NOT the new variety and many of the old. Will keep costs to a minimum and there will still be a 10% discount to "'Clique" members.
Sunday , May 26 , 2019.
Erovnuli 2 League. (Round 13).
Merani Tbilisi  v Zugdidi.
19-00
@ Spaeri Stadium, Kvareli 160, Tbilisi.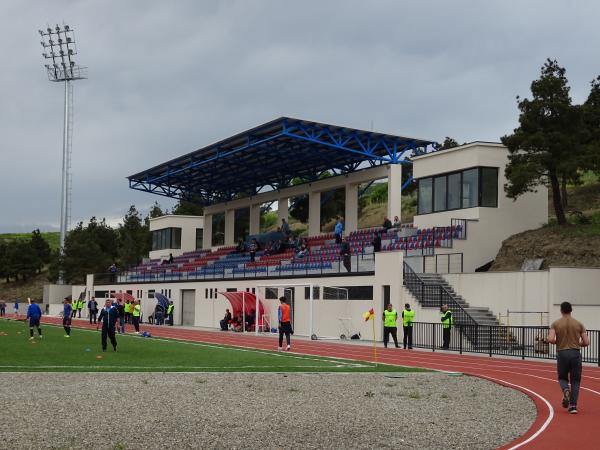 1 – 0.
Att – 100.
After todays games –
1 Merani Tbilisi 13 10 2 1 31 11 +20 32.
2
Shevardeni 1906 12 6 5 1 17 5 +12 23.
3
Samtredia 13 6 4 3 19 11 +8 22.
4
Telavi 13 6 4 3 29 16 +13 22.
5
Tskhinvali 12 6 2 4 18 13 +5 20.
6
Shukura 12 6 2 4 14 16 -2 20.
7 Gagra 13 5 3 5 17 15 +2 18.
8
Kolkheti Poti 12 3 0 9 10 27 -17 9.
9
Zugdidi 13 1 1 11 6 25 -19 4.
10
Guria 13 2 1 10 7 29 -22 4.
Monday , May 27, 2019.
Erovnuli 2  (Round 13).
Kolkheti Poti  v  Shevardeni.
17-30.
@ Poti Rugby Stadium. (Park Arena).  Off  E 70.
0 – 0.
Att  – 500.
Most fixtures  over here they are at the whim of officials , in this case the game kick off time one that has been altered 3 times in recent weeks managed to kick off 30 min's  earlier than I expected. 18-00 was my intended kick off until arrival when it was mentioned it was 17 -30 only as they teams were entering the pitch at 17-25 , as usual I was well early so no problem but it caught a fair few out.
Shevardeni were inept up front and it had 0-0 written all over it from a very early stage , Shevardeni needed the points to have any chance of catching Merani Tbilisi at the top  (see league table above without  this game added). The goals tallies for the season says it all , scored 17 in 13 games and conceded 5 and they are in 2nd position . They were never going to concede and were relying on a quick break to steal a 1-0 win , that never looked like happening.
Before Round 16 the Erovnuli league table stood at =
1 Saburtalo 15 10 1 4 31 22 +9 31
2 Dinamo Batumi 15 10 1 4 24 15 +9 31.
3 Torpedo Kutaisi 15 8 2 5 25 20 +5 26.
4 Dinamo Tbilisi 15 7 2 6 27 19 +8 23.
5
Chikhura 15 5 7 3 21 13 +8 22.
6
Sioni 15 6 3 6 21 33 -12 21.
7 Dila 15 5 3 7 13 14 -1 18.
8 Lokomotivi Tbilisi 15 6 0 9 20 22 -2 18.
9
Rustavi 15 2 5 8 17 29 -12 11.
10
WIT Georgia 15 3 2 10 7 19 -12 11.
Tuesday , May 28, 2019.
Erovnuli League Round 16 .
FC Rustavi  v  Dinamo Tbilisi.
19-00.
@ Rustavi Technical Centre, Leonidas Street.
0 – 1.
Att – 500.
Few  seats far side , nothing on 3 sides , the players / officials enter from building at top right. Pathetic , not been many worse than this in top tiers . Hope it doesn't rain , no fecking press box here , just a TV gantry this near side and floodlights added since photo above taken.
Official attendance should be interesting , at the beginning about 130 but by the end about 600.  (See above , 500).
Game won on 31 ' by Dnamo striker Levan Kutalia's break and deft left foot chip over Rustavi keeper  that kept the travelling 40 happy. Bit of a journeyman our Levan this being his 10th different club in 8 years ! Having a decent season , his goal today was his 8th in 15 appearances.
Wednesday May 29 , 2019.
Erovnuli League Round 16.
Dinamo Batumi  v  Sioni Bolnisi.
20-30.
@ Angisa Stadium. (Dinamo Base). Batumi Airport Highway. Another new training Academy Base.
5 – 1.
Att – 6,000. Guestimate.
Saved the best for last , brand new academy venue , again ! But much better than previous evening. If capacity is as stated 6,000 there were 7,000 here, I've not got official attendance yet , would guess at 6,000 and a  raucous bunch they were.
Batumi needed to better Saburtalos goal difference by 1 tonight to go top if both teams win. Batumi started slowly and it took nearly 40 mins to score the opener  with a cracking left foot strike from the edge of the box by Vladimir Mamuchasvilli and that was  how the first half finished.
The second half was a cracker with goals on 61′ with a penalty by Brazilian Gabriel Ramos Da Penha , 'twas never a penalty , a forward was tripped a yard outside of box , then a 25 yarder by Nigerian Benjamin Teidi put Batumi 3 – 0 up. Vladimir scored again with a chip from edge of box after a neat dribble which then put Batumi top of the league a local scribe told me.
Not for long though , an offside handball goal on 84′ by Tornike Tarkhnishvilli ( I think) put a dampener on procedings , but then the big crowd went wild when Dinamo scored with 20 seconds left of the + 3 to play with a cracking right foot shot from the edge of the box by Niklos Sabanadze, this was enough to put Dinamo top.
1 Dinamo Batumi 16 11 1 4 29 16 +13 34.
2        Saburtalo       16 11 1 4 34 22 +12 34
======================
FACT.